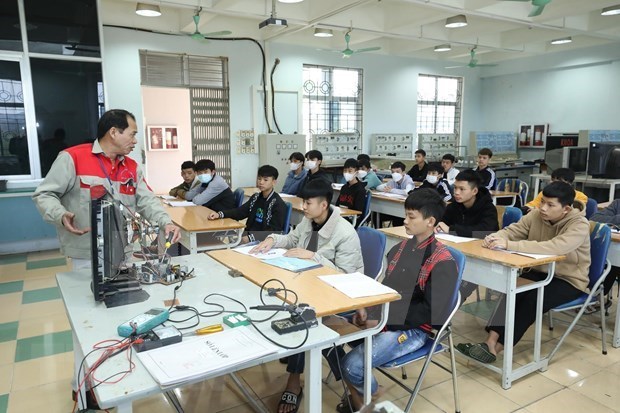 The vocational training sector catches up with the trend of digital transformation
The reform of vocational training in association with digital transformation and the application of information technology has been defined as an important solution to provide high quality human resources, according to insiders.
One of the major contents of the digital transformation in vocational training is the conduct of training activities in a digital environment, which makes it possible to improve management efficiency and expand training methods as well as access of people to vocational training by renovating the content and measures of teaching, learning, examining and evaluating.
Pham Vu Quoc Binh, Deputy Director of the Administration of Vocational Training of the Ministry of Labor, Invalids and Social Affairs, affirmed that digital transformation in vocational training is a process of integration and application of technologies digital.
Meanwhile, Professor Do Van Dung, former director of HCM City University of Technology and Education, said digital transformation is a vital factor that helps vocational training activities adapt to the current situation, to reduce costs, improve competitiveness and increase efficiency, laying the foundation for autonomy and the change of mentality of the sector and the achievement of a shared education.
Ho Thi Ngoc Thuy from Saigon University stressed the need to accelerate digital transformation so as not to miss the opportunities brought about by the Fourth Industrial Revolution, because in the period of global integration, the education sector and training in general and vocational training in particular are not outside the global trend.
One of the important solutions adopted by many vocational training institutions is to accelerate the digital transformation process and modernize their infrastructure system and equipment, as well as reform their training program. They have established close links with companies in the development of training programs and the organization of training activities as well as the transfer of modern training technologies.
According to the vocational training subcommittee under the National Council for Education and Human Resource Development, so far, many vocational training institutions across the country have started to apply training equipment and materials. IT and digital in teaching activities, while many have digitized their teaching. documents, and others have collaborated with outside organizations to bring digital libraries to life.
Source: VNA

Professional training: VN prepares the best workers to welcome both small and large companies
Vocational education must be well organized to produce enough workers who meet the requirements set by investors in the ongoing wave of FDI, experts said.